....my new ride - straight from the states...
1976 Chevrolet Caprice Classic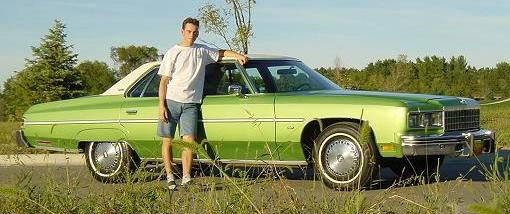 After long weeks of desperate waiting my classic full-size has now finally arrived in Germany.
The story behind it? Check out a short extract!
In August 2002 a friend and I flew to Lincoln, Nebraska in order to study at the local university
for a year. Way before I left H-Town, Germany, I already knew that I would have to get myself a
V8 cruiser for my stay in the states. Cruising the city, travelling the country and grabbing burgers
in the front-seat of a lame-ass '99 Dodge Neon? Well screw that!
While browsing through the inventory of the local used-car dealerships, the Chevy you see above
immediately caught my attention. The interiour was in great shape, the floor and sheet metal was
absoletely rust free. Ever since 1976, the car had only been moved to the local grocery store by
the original buyer - an old lady. After two days of negotiations a price was set and I could take
my new ride off the dealer's lot. Cruise with me baby !
During the following months, my friend Thomas and I took the Green Lizzard on it's probably
biggest journey through more then 20 states. Suprisingly, the Caprice always receivied major
attention in every city that we visited. Especially the black brothers wanted to buy it straight off
our white asses! After some small repairs and maintenances, my friend Thomas finally dropped
the car off at a local shipping agent in Long Beach, California. There, the Caprice was being
prepared for it's trip to low-down H-Town.
Desperate to learn more ?
Check out the links below for more pix and detailed info!
stock to custom... click here
for pix of the full-size chevy
my ameri-cruise through 22 states -
check here for facts and info
click here for info about
the car and it's condition
the low-down in H-Town -
look here for install-pix
Read what them people on the streets
had to say about the green lizzard
© 2002